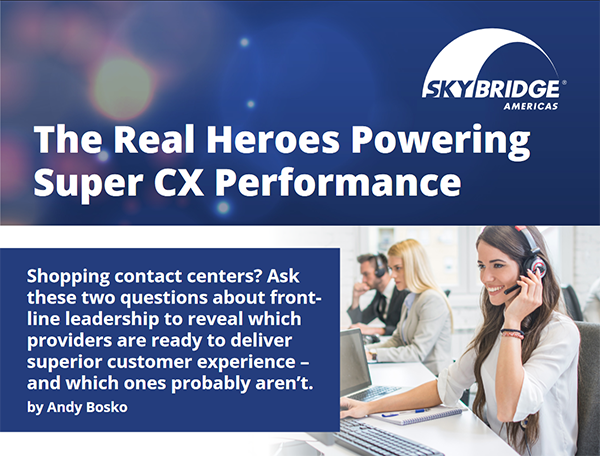 Customer loyalty isn't something you build once and count on forever. It is fragile, vulnerable to every encounter your customers have with your brand, especially those that occur at the contact center. As a growing number of organizations have come to recognize, customer expectations of brand interactions have shifted since 2020. Yes, they want a speedy response, accurate information, and ease of resolution. But those are just table stakes.
To uncover the capabilities needed to wow and retain your customers, reach past the quantitative accountabilities and ask each provider about their agent responsibilities, behaviors, and routines.
Start by adding two questions to your next RFP:
What are the primary responsibilities of your agent supervisors?
Yes, you want to know the average number of agents reporting to each supervisor and the quantitative metrics by which their performance is measured. But beyond that, watch or listen for responses that prioritize the routine tasks and responsibilities of successful team leaders:
Conduct agent coaching:

Regular one-on-one agent coaching
Ad Hoc agent coaching

Deliver consistent team communications

Ongoing written communications
Celebratory practices after successes
Regular team meetings

Build and maintain agent skills

Monitor calls
Deliver relevant coaching and skill-building opportunities

Provide meaningful trend feedback for contact center customers
Describe the core competencies of your agent supervisors.
At the end of the day, the agent teams who win and re-win the loyalties of your customers are the teams who are:
United around your brand goals,
Coached to deliver extraordinary service, and
Recognized and celebrated for their successes and efforts.
Those teams are built and sustained by CX-savvy contact centers that know how to recruit and retain gifted supervisors and coaches.
When you ask about supervisor competencies, listen for these must-haves:
Superior Written and Verbal Communicator
Whether they're delivering informal, real-time coaching to an agent, handling an escalated call with an agitated customer, or providing time-sensitive feedback to senior leadership, solid supervisors are clear, engaging, persuasive, and professional.
Active Listener
Talented supervisors keep their teams engaged because they listen carefully to their agents – and their agents know it. I'm not just talking about listening in on customer interactions. I'm talking about whether agents feel heard and understood by their coach. Gifted supervisors prove day in and day out that they're invested in understanding what's being said – and plan their actions accordingly.
Agile Learner, Undaunted by Evolving Technology
Talent-driven contact centers are less concerned about what systems or apps their supervisors already know and much more concerned about each supervisor's agility and eagerness to embrace new technology as it emerges. These supervisors know that tech is a critical tool that, when used wisely, can deliver warm, highly personalized communications and connects teams, regardless of physical distances.
Motivating Leader Who Rallies the Troops
Effective supervisors never parrot canned scripts without context. They connect with people, offering encouragement, congratulations, and guidance. They're driven to remove the obstacles to great performance, set high standards, and hold team members accountable by inspiring them to do their best.
Aligned with Leadership Vision and Supported by Senior Management
Talented supervisors do not stick around if they're an island of CX Greatness in a sea of underperformance. Ask each provider about the tenure of their supervisors. Ask how supervisors are supported by senior leaders. Ask about the importance of supervisor observations and opinions of trends in call quality. Then listen carefully to get a good sense of how well the contact center understands the critical nature of the supervisor role.
At Skybridge Americas, these are the traits and skills we hire for – and train fot – in all of our supervisors. It's one of the many reasons for our exceptional agent and supervisor tenure. If you would like to know more about how we can bring extraordinary leadership and a superior experience to your customers, please reach out. We would love to talk with you about your goals and how we can help you achieve them.
Find out how Skybridge Americas can help you delight your customers and grow your business.
We seamlessly integrate our superior customer care skills with your brand messaging. For more information, contact us at
763-299-4570
or
submit our contact form
.