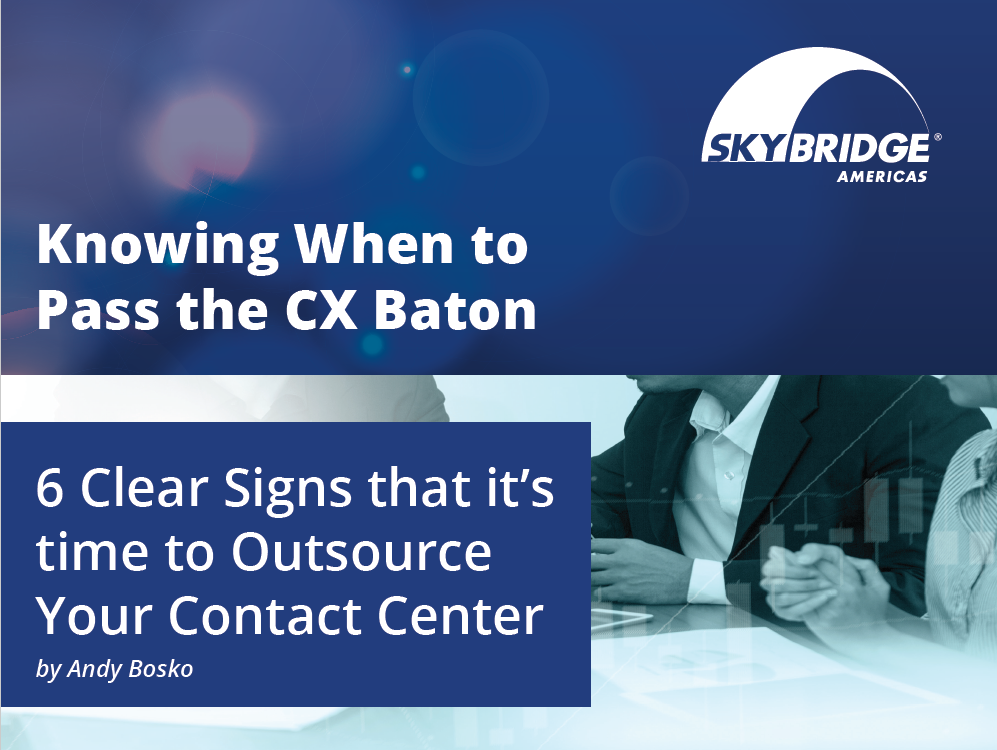 "Outsourcing helps companies maintain service levels and provide a consistent customer experience across all channels and hours of operation."
Deloitte Digital 2023 Report on New Realities for Contact Center Transformation
Have your customers been looking for a better experience at your contact center? Chances are, they're getting tired of waiting.
If the thought of outsourcing your in-house customer care operation sounds as pleasant – and safe – as juggling chainsaws while running a marathon, I get it. Who could blame you for trying to avoid the risks of disruption, unwelcome surprises, unhappy customers, and a botched transition?
But what happens when the risks of sticking with the status quo begin to outweigh the benefits? In his recent Forbes article, customer service and CX expert Adrian Swinscoe summarized a growing mountain of evidence suggesting that, without a major turnaround in their contact center management priorities, many U.S. companies will grow increasingly incapable of delivering on their brand priorities.
It's time to take a fresh look at the customer care you could be delivering.
If you haven't seriously shopped customer care providers lately, it's important to know that a lot has changed in this industry, especially since 2020. No matter how perfectly you've assembled your in-house customer care crew or how impeccably they've catered to your customers in the past, the stark truth is this: your business case for remaining in-house may have grown obsolete. But until you start comparing your in-house capabilities to what's actually available to you, how can you know?
Here's what I know. One of the most frequent comments we hear from our newly onboarded clients is this:
"Why did we wait so long to move?"
When done well, outsourcing isn't about handing over the reins of your customer service to someone else. It's about partnering with an experienced expert that is capable of so much more than taking calls. The right customer care provider will become your partner in achieving higher levels of performance. They will collaborate with you, aligning their capabilities with your brand goals and driving greater customer satisfaction, retention, loyalty, customer experience, and ROI. They will never lose sight of your mission. Think of it more like a relay race – you're not losing control; you're passing the baton to an agile and swift-footed professional who knows how to help you beat your competition.
Here are some signs that right now is the right time to start looking for something better.
1.   Your "omnichannel" still operates in silos.
According to the Deloitte study, only 7% of contact centers today are actually capable of delivering a seamless experience across multiple channels. And by seamless, I mean capable of allowing customers to transition between channels without having to repeat their own information, their reason for initiating the service event, or what has transpired since then. Chances are, your in-house contact center is one of the other 93%. The right outsourcing provider has invested in the technology that allows customers to glide without friction between channels and leave the interaction feeling better understood by their brand than ever.
2.   Your IT department isn't equipped to keep up with today's rapid tech innovations.
While call center technology – and the disruptors who pioneer them – have been advancing rapidly for years, the pandemic forced IT innovations into overdrive. Change now occurs at speeds that are simply too expensive and complex for most in-house teams to predict, integrate, or maintain. The right outsourcer, on the other hand, operates on an entirely different scale, serving multiple customer bases. They're also laser-focused on tracking, vetting, and harnessing new ideas and systems that affect customer contact center performance. This ability has become particularly critical as artificial intelligence plays an increasing role in contact center performance.
3.   Agent turnover is on the rise.
While years-long labor shortages have challenged most U.S. industries, the pandemic hit contact centers especially hard. For many, the transition to remote was unplanned and chaotic, demanding systems changes and infrastructure redesign, along with complete overhauls of agent and supervisor success profiles. Those delivery models that were re-engineered on the fly continue to frustrate agents today.
Whatever the reasons for your own team's hiring challenges, the consequences of agent attrition can be devastating to your brand. Understaffing drags everyone down, forcing customers to wait for help and placing undue stress on the rest of your team. When unhappy teams start to unravel, their performance can go into free fall.
By contrast, a talent-savvy customer care provider has a well-established but highly flexible staffing model backed up by smart technology. They know how to create a work environment that attracts and retains top talent. More importantly, they'll have the stats to prove it.
4.   Customer experience (CX) metrics are slipping.
Downward performance trends in satisfaction, loyalty, and even average handling times are signs that your current operation isn't your customers' needs and demands. Customers do not segment their service expectations by industry or brand. In other words, once their shoe retailer exceeds the old norms, that's the new standard that customer applies to their vacation company, wine club subscription, and insurance provider. Outsource providers – the best ones – see customer expectations through that wider lens, and they meet them.
5.   Limited capacity is an obstacle to growth.
Whether it's because you're introducing new products, pursuing significant mergers or acquisitions, or simply experiencing a shift in the market, a growth spurt in your customer base can spell trouble for an in-house contact center. Call volumes can be unpredictable. New customers often bring unprecedented demands. As queues grow longer, customer patience grows shorter. When you can't keep up, your customers may move on.
6.   You're a Monday-Friday operation in a 24/7 world.
Gone are the days when retail, customer-centric brands can successfully train their customers to schedule their requests for help within a 9-5 weekday window. Is it realistic for your in-house team to budget for, onboard, and retain second and third shifts? It is for the right outsourcer.
Swinscoe closes his article by pointing to the customer experience "malaise" affecting so many brands today and the growing urgency for CX-driven organizations to change their thinking when it comes to contact center investments. "The quicker contact center leaders and senior executives in organizations start reframing the role of the contact center… from one of a cost center to a place where they manage it as a value center," they will recognize that a contact center can be a quick and powerful investment in correcting CX performance.
Skybridge Americas is an agile, 100% remote customer care provider with a long track record of delighting customers. We invest in the people, technology, and processes it takes to deliver superior customer experiences for customer-centric brands. If you would like to learn more about how we can help you, please reach out. We would love to talk!
Find out how Skybridge Americas can help you delight your customers and grow your business.
We seamlessly integrate our superior customer care skills with your brand messaging. For more information, contact us at
763-299-4570
or
submit our contact form
.