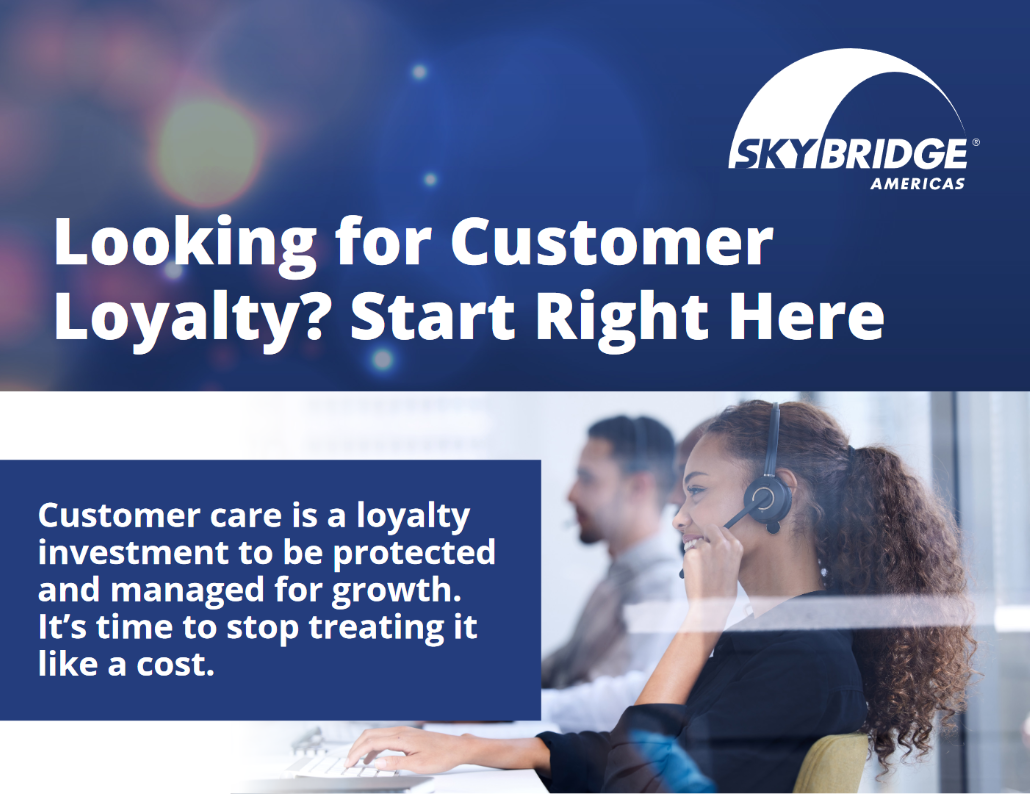 Thanks to the strange, mixed messages our economy keeps sending, many businesses find themselves juggling the dueling concerns of sustained talent shortages and lingering worries of a 2023 recession. As plans and budgets go through new rounds of scrutiny, some marketing and CX leaders are feeling pressure to find ways to cut costs. If you find yourself in that camp, I'd like to offer a few words of caution:
Be careful how you define cost.
If you're a customer-centric brand, you've invested mightily in long-term relationships, customer profitability, and the underlying loyalty factor that fuels those metrics. And if the past three years have taught us anything about loyalty, it's these two things:
Customer loyalty is an emotional connection to a brand.
One of the most emotional connections your customers establish with your brand will be determined by what happens when they reach out to a brand for help.
Every day, customer loyalty opportunities present themselves at the contact center, each one maximized or squandered in a matter of minutes (sometimes seconds). Yet the consequences of these interactions can be felt for months and years afterward, in sales, satisfaction and promoter scores, retention, and of course, long-term profitability.
I've been in this industry a long time and I've seen what happens when customer care falls into the "cost" bucket. Customers feel it. Competitors take advantage of it, luring sales – and ultimately, entire relationships – away.
Customer care is a loyalty investment to be protected and managed for growth.
According to a recent Forrester study, 76% of customers who feel appreciated by a brand will stick with that brand. And in their just-released Global Customer Loyalty Report, based on a survey of more than 4,500 consumers, Antavo further validates the investment argument. Consider these three additional takeaways from the Antavo report:
Customers Want to Feel Known, Understood, and Valued
They want to feel that their experience with a brand is tailored to fit their needs and preferences. When asked what would make them more likely to return repeatedly to an online store or website or join a loyalty program, respondents ranked "personalized offers based on specific interests" as their top choice.
Customers Crave Quality – When asked which factors were most important when it comes to loyalty programming, respondents ranked "quality of service" as their highest priority over everything else, including lower prices.
Technology Is Critical – In spite of the mountains of evidence that world class service delivery depends on world class technology, many organizations have yet to fully embrace IT as core to their customer experience strategy. That's good news for you, if you're willing to make the investment.
At Skybridge Americas, we're continuously investing in the people, technology, and processes it takes to deliver superior customer experiences for customer-centric brands. If you would like to learn more about how we can help you, please reach out. We would love to talk!
Find out how Skybridge Americas can help you delight your customers and grow your business.
We seamlessly integrate our superior customer care skills with your brand messaging. For more information, contact us at
763-299-4570
or
submit our contact form
.