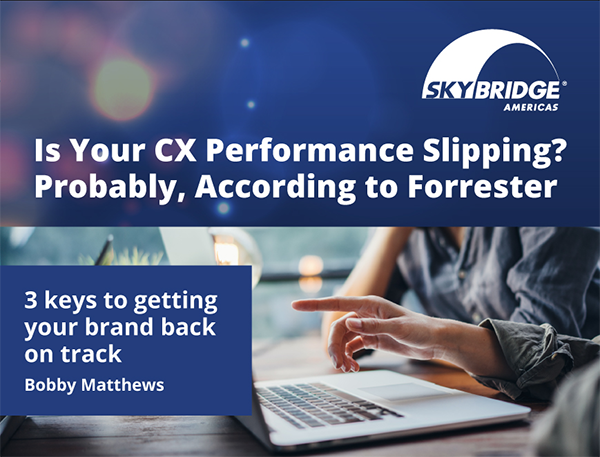 Even tiny shifts in leadership focus can lead to costly drops in customer experience.
After showing an impressive post-covid CX rebound – and steady gains in 2021, US brands appear to have hit the wall. That's according to Forrester's 2022 US Customer Experience Index. This year's survey of 96,000 American consumers showed that nearly one-fifth (19%) of brands experienced a drop in CX quality, according to their own customers, the largest drop in rankings since the study's inception seven years ago. While the 2021 report found that 10% of US companies were able to show evidence of processes, practices, and investments that put "customers at the center of their leadership, strategy, and operations," earning them a rating of "Customer Obsessed," only 3% maintained that rating in 2022.
But why? What is behind this surprising stall and fall after 2021's gains? Forrester points to a diminishing focus on what customers want and need most. 
As organizational leaders have been forced to deal with labor shortages, supply chain shortages, inflation, and other woes, it appears that many have taken their foot off the CX gas and their eyes off their customers. If that sounds like you, how can you regroup and regain your customers' trust?
Focus on Feelings
Yes, your customer's emotions and their sense of emotionally connected interactions with your brand are the clearest pathway to earning their trust, loyalty, and brand advocacy. Consider how those warm and fuzzy feelings translate into more profitable relationships: According to the study, 54% of customers who report positive emotions – like "feeling happy, valued, and appreciated," about their brand interactions also report that they're willing to forgive that brand's mistakes.
Identify and Understand Your Brand Devotees
Fiona Swerdlow, Forrester's VP and Research Director, describes this focus as the process of cultivating and growing "Devotee" customers and recommends a two-pronged approach, starting with figuring out who your current Devotees are and answering five simple questions about them.
∙ What do they love about your brand?
∙ How likely are they to forgive a mistake your brand might make?
∙ How likely are they to buy from you next time?
∙ How likely are they to buy additional products or services from your brand?
∙ How willing are they to pay a premium for their experience with your brand?
While surveying is one obvious way of getting at those answers, it's not the only way. Partner with your customer care team to gather intelligence on customer call quality, customer comments, and even agent impressions of what's working and what isn't.
Grow Your Devotees and Reap the Rewards
Once you know what your ideal customers need and value in their brand interactions, you can choose a customer care partner capable of meeting those needs. It's worth the investment. On average, devotee customers generate 109% (more than double) the revenue of non-devotee customers.
Find out how Skybridge Americas can help you delight your customers and grow your business.
We seamlessly integrate our superior customer care skills with your brand messaging. For more information, contact us at 763-299-4570 or submit our contact form.