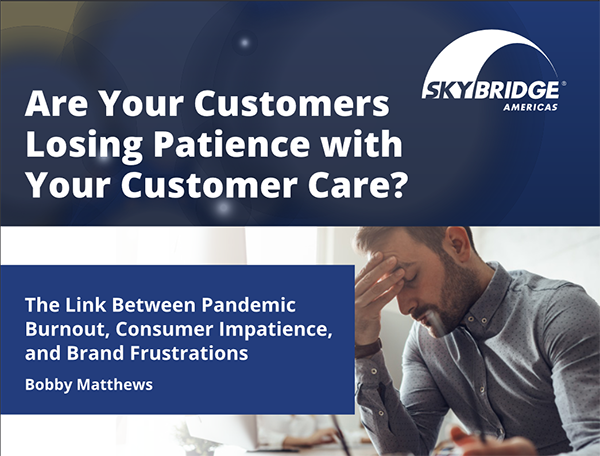 As a consumer, I know how I feel when I have to reach out to customer care. So do you. Some brands (our favorite brands) make it so easy.  One call or text or chat is all it takes to get what we need. So quick and painless that we barely stop to think about how well it all works with that brand.  
Then, of course, there are those other brands. The long hold times. The inaccurate answers. The disengaged agents and multiple transfers that are inevitably followed by repeated requests for our account information and issue. Awful. So awful that it's the first thing we think about in association with that brand.
If you feel like these breakdowns in service are getting worse than ever, you're hardly alone. A growing number of American consumers feel the same way. But what if that's not the only reason things feel worse than ever?
What if something else is going on?
According to The State of Customer Service in 2022, the recent report by AI platform provider Netomi, a major source of our disappointment and frustration can be traced back to our own growing impatience since the pandemic. According to the study, a survey of more than 1,200 U.S. consumers, 39% of consumers report having less patience today than they did prior to covid-19. What does this impatience look like in the Customer Experience world? It means that 14% of these same respondents now have a zero tolerance for hold times of any length. From a Customer Experience (CX) perspective, this "patience deficit" alone may not seem like such a big deal. As long as a consumer reaches a well-run platform and a highly competent agent, all is well.
But what happens to that short-fused customer who isn't so lucky?
Today, according to the study, nearly two-thirds (65%) of consumers report such insufficient help with their issue that it takes repeated contacts with their brand's customer care team before it's resolved. Frankly, as I read the results of the Netomi study, it's impossible not to get the sense that consumer anger boils over into rage with greater frequency than ever. In fact, 61% of Netomi respondents report that they have hung-up on a representative, mid-conversation, out of sheer frustration. More alarmingly, 14% of respondents say they have raised their voices and 19% — nearly one-fifth of respondents – have sworn at a company representative. 
These are not "harmless" moments, of course. Beyond the obvious, unnecessary pain they bring into our daily lives, these incidents drive rifts between brand and consumer that grow increasingly difficult to repair. Worse, they create mistrust between brand and entire markets.
Consider this by-product of our long two-plus years of covid-driven social exile: our willingness to communicate online, and the speed with which we turn online to express our frustrations, often in hyperbolic detail. More than one third (34%) of Netomi respondents say they "publicly shame" brands with negative online reviews after receiving poor customer service. More than half (53%) have done so at least once.
What's working?
Contact centers who consistently deliver superior customer experience have 3 things in common:
They're less vulnerable to extreme call volume peaks and catastrophic events – and resulting hold times – than their peers because they have invested in cloud-based platforms and geographically disbursed, at-home customer care teams.
They use artificial intelligence (AI) to predict customer needs, assist agents with solutions, and enable customers to access the level of help they prefer, from self-service to live agent communication.
They reduce agent turnover by maintaining team cultures that attract, train, and retain highly skilled agents who love what they do.
Does your customer care team have the resources to meet the demands of today's easily agitated customers? At Skybridge Americas, we have been leading the way in delivering superior customer experiences for customer-centric brands. If you'd like to learn more about how we can help you, please reach out. We would love to talk!
Find out how Skybridge Americas can help you delight your customers and grow your business.
We seamlessly integrate our superior customer care skills with your brand messaging. For more information, contact us at 763-299-4570 or submit our contact form.