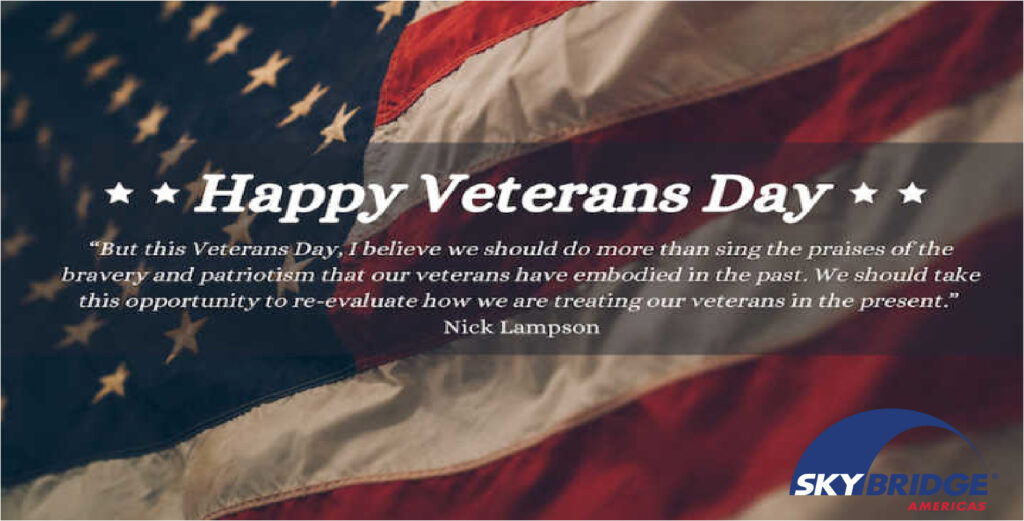 Today, as we honor the service and sacrifice of all American Veterans, I would like to highlight one especially meaningful way that businesses across the country can show their appreciation:
Hire a Veteran.
A few years ago, I wrote about my Top 10 Reasons to Hire a Veteran. They're as true today as they ever were, and I'd like to share them with you here; along with a few updates.
The simple fact of being a member of the United States armed forces says something about the character of an individual: they chose to join a team whose goals are greater than their own. They're capable of taking the long view of purpose, effort, and outcomes. During their service, they have lived the acronym of TEAM: Together Everyone Achieves More.
The military mindset is one of focus on mission, and trust in leadership. Whether it's "take that hill, Sergeant!" or "the old man needs that report asap," the military person knows what it takes to make it happen and get the job done.
Military personnel make meaningful connections that last a lifetime. When you recruit a veteran or someone on active duty, they bring with them every contact they made in basic training, technical training, and every unit in which they ever served. Imagine what this kind of contribution can mean to your network.
The bonds that unite our veterans transcend geography, age, or specific role. When you hire a military person, you will see them continue making connections with others based on shared military experience: VFW, American Legion, AMVETS, DAV, the Veterans Administration… the list goes on. Imagine bringing even 10% of the local veteran's service organizations' membership onto your team.
Military experience nurtures the spirit of innovation and tenacity in every member who serves. It teaches the importance of looking outside the box and seeking the ideas and input of all members of the team to come up with solutions.
Military personnel have demonstrated their willingness to face unknowns, handle stressful situations, and support each other throughout. When you hire a vet, you hire someone who simply isn't wired to give up or walk away when faced with a new challenge.
Military personnel are teachable, trainable, and eager to acquire new skills. A team of U.S. military veterans is a team of people who know how to take notes, prioritize tasks, focus on goals, seek and accept feedback with grace and enthusiasm, and turn in excellent results. In the business arena, these same individuals will get the job done in the most efficient manner with an eye toward maximum profit and the most positive outcomes.
If your organization operates internationally, you will benefit exponentially by hiring veterans who have served overseas. They will bring with them an understanding of critical cultural nuances as well as their own connections with others. If you have functions or markets in Europe, Asia, Africa or Latin America, this knowledge and these relationships will be invaluable.
Career military and veterans have lived and learned the lessons and substantial payoffs of delayed gratification. They've already done the math on salary, benefits, and retirement benefits. They know the value of a job well done and place a high value on the dignity of work and their own efforts.
Military and veteran personnel are realists. These are individuals who have experienced 24-hour shifts, working far from home, and when necessary have been proud to roll up their own sleeves to get even the most boring task completed.
Bonus reason: military and veterans have a clear grasp of the concept of "time and place." They know how to celebrate a victory with gusto and camaraderie. But they also understand what it means to demonstrate absolute professionalism. They can be counted on to be fully present, fully invested, and totally reliable, no matter the situation.
With respect, honor and gratitude, Thank You Veterans!
Bobby